inkl. MwSt. zzgl. Versandkosten
Versandkostenfreie Lieferung deutschlandweit!
Sofort versandfertig, Lieferzeit ca. 1-3 Werktage
Artikel-Nr.:

SE-393RLK-PRO

Artikelgewicht

26.5 kg
leicht, schmal und schnell High Performance Design Die weltweit ersten Drop-Stich...
mehr
Produktinformationen "SeaEagle 393RLK RazorLite Pro Package"
leicht, schmal und schnell
High Performance Design
Die weltweit ersten Drop-Stich aufblasbaren Kajaks sind sehr viel leichter, schmaler und schneller zu paddeln, "high performance" Kajak für echte Abenteurer! Eine gestochen scharfe, verjüngte, harte Nase am Bug und Heck, kombiniert mit einer komplett mit Dropstitchtechnik aufgebautem Rumpf ermöglichen die Sea Eagle Razorlite Kajaks durch Wellen sanfter, gerader und schärfer als jedes andere Kajak auf dem Markt Es ermöglicht paddel Geschwindigkeiten von bis zu 10 Kmh. Wegen dem High Performance-Design sind die Razorlite Kajaks für erfahrene Paddler geeignet.

The RazorLite Kayak's Straight Hull Design
An important and unique feature of the RazorLite Kayak is its straight hull design which provides the maximum straight hull waterline length. This feature combined with the very narrow kayak width (25" at the waterline) allows the RazorLite to paddle as fast as any rigid kayak. The Bow and stern molds are made of durable plastic and cut through the wind, waves, current, and water like a sharp edge straight razor on a clean close shave. With superior length to width ratio, razor sharp bow entry, straight line planing surface and a precision razor sharp stern exit at the rear these inflatable kayaks are in a performance league of their own.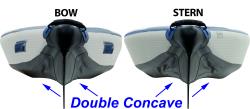 The RazorLite Kayak's Unique Bow and Stern Design with Tapered Side Walls
The RazorLite Kayak's rigid bow and stern molds create the worlds very first speed entry system that leads into a double concave and then opens into a flat planing surface. The double concave design at bow allows pockets of air to enter in between the hull and the water creating lift while reducing friction and drag. The double concave at stern creates a super clean exit. The Tapered Drop Stitch Side Walls provide a rigid chine at the waterline and secondary buoyancy and stability. These features combine to enable the RazorLite to glide quickly and effortlessly through the water!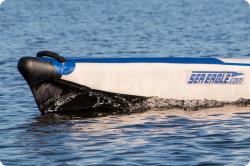 Bow and Stern Molds
The RazorLite Kayak's rigid bow and stern molds create a razor sharp speed entry and exit system. The bow mold cuts through the water effortlessly at a high velocity. The water then meets the carefully designed Tapered Side Walls creating lift while reducing friction and drag, then exits just as fast as it entered at the stern mold leaving little to no wake behind.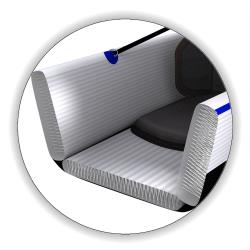 The World's First and Only Kayak Made Entirely Of Drop Stitch Material
The patent pending Sea Eagle RazorLite High Performance Ultra Light Kayak is the world's first and only inflatable kayak made entirely with Drop Stitch Technology throughout! This kayak uses 3" Drop Stitch material for the floor and 4" Drop Stitch material for the side walls. Our Drop Stitch material uses thousands of high tensile strength threads connecting the top and bottom fabric layers, creating thousands of I-beam supports. This enables the RazorLite to be inflated to a much higher pressure (10 psi) than other kayaks (3-4 psi) which increases overall rigidity. The unique Drop Stitch construction makes the RazorLite as fast as any rigid kayak in it's class and provides the added benefit of being able to pack in its own backpack. The RazorLite is as tough as nails, incredibly rigid, ultra light, and a delight to paddle.
393rl RazorLite Specifications

| | |
| --- | --- |
| Exterior: | 393 cm x 71 cm |
| Weight: | 12.7 kg |
| Capacity: | 1 Person (136 kg) + Gear (91 kg) = 227 max total kg |
| Interior: | 371 cm x 43 cm |
| Tube Dimensions: | 21.6 cm High x 10 cm Thick |
| Deflated: | 56 cm x 56 cm x 30.5 cm |
| Chambers: | 3, Port, Starboard, and Floor |
| Material: | 1100 Decitex Reinforced |
| Seam: | Overlapped |
| Air Valves: | 3 Recessed One Way |
| Inflation time: | 7 Minutes |
Sea Eagle SUPs and RazorLite Kayaks use drop stitch construction, which allows a much higher air pressure than other inflatable technologies. Thousands of tiny threads connect the top and bottom layers of the board.
This means the board can hold up to 15 pounds of max air pressure, more than double the working pressure of other technologies.
When you're out on the water, our inflatable SUPs and RazorLite Kayaks will turn, cut and perform like a rigid board or kayak, and still packs up nicely into a small bag.
393rl RazorLite Standard Features
NMMA Certified
Fully Constructed with Drop Stitch Technology
2 Open and close drain valves
Large Removable Rear Skeg
Front & Rear Spray Skirts with Carry Handles
6 D-Rings to Secure Seat and FootRest
3 One-Way Air Valves
Printed Instructions
Adventures Package Contents
Item
393rl RazorLite Drop Stitch Kayak Hull
AB40 Paddel
Rucksack (BLUE)
Sitz mit Rückenlehen
Handpumpe
Repair Kit
Fußablage
Weiterführende Links zu "SeaEagle 393RLK RazorLite Pro Package"
Bewertungen lesen, schreiben und diskutieren...
mehr
Kundenbewertungen für "SeaEagle 393RLK RazorLite Pro Package"
Bewertung schreiben
Bewertungen werden nach Überprüfung freigeschaltet.